Parent Access to State Testing Scores
State assessment scores for Allen ISD students will be reported to parents/guardians via Skyward Family Access. This will apply to STAAR and TELPAS testing and will enable Allen ISD and campuses to communicate results to you much more quickly.
When state assessment scores are received, parents/guardians will receive an email notifying them that scores are available. Results will be sent to all guardians with the email addresses provided. For this reason, it is important that you set up your Family Access account and maintain a current email address.
You may access the state's parent portal directly from Skyward. Once logged in, click the "district links" button in the upper right hand corner, and then click the "State Testing Results Portal" link shown in the pop-up box. If you have more than one child with state assessment results, you will see a link for each child. Please note that it may take several days after results have been received for these links to become active for your child, particularly if this is the first time your child has tested in Allen ISD.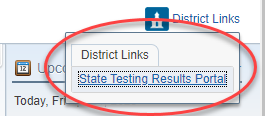 This link will take you to TEA's parent/student portal and directly to your child's testing history, where you may view your student's current and historical state testing performance. Additionally, you may download a PDF of your student's results.
For parents/guardians unable to access scores via the Skyward "district links" or the state's parent/student portal, score reports may be picked up at the campus where your child tested on the dates listed below. The printed report parents can pick up will be the same score report available in the state's parent/student portal. Therefore, parents who have already viewed their child's scores in the parent/student portal do not need to pick up copies during these times.

| | | | |
| --- | --- | --- | --- |
| 2023-2024 Tests | 2023-2024 Test Administration Dates | Anticipated Timeframe for Score Reporting in Family Access | Campus Pick-Up Date/Time for Parents without Access |
| December STAAR EOCs | December 5-11 | TBD | TBD |
| TELPAS | February 19 - March 29 | TBD | TBD |
| STAAR Alternate 2 | March 25 - April 26 | TBD | TBD |
| Spring STAAR EOCs | April 9 - 24 | TBD | TBD |
| Spring STAAR Grades 3-8 | April 16 - 24 | TBD | TBD |
| June STAAR EOCs | June 24-26 | TBD | TBD |
As some scores are reported during the summer months when campus offices are closed, it is important that you make sure you are able to successfully log in to Family Access prior to the end of the school year. For assistance with setting up your Family Access account, please visit the Skyward Family/Student Access webpage or contact your child's campus.
Why are my child's STAAR/STAAR EOC Scores so late this year?
STAAR and STAAR EOC were all significantly redesigned by the Texas Education Agency in 2022-2023. As a result, standard setting must occur post-administration, which creates a delay in score reporting to districts and campuses. For more information about the STAAR Redesign, please click here.
I have more questions about TELPAS. Where can I get more information?
The Texas Education Agency has provided answers to some frequently asked questions about TELPAS. These are available in both English and Spanish.
Additionally, for students participating in TELPAS Alternate, parent information brochures are also available in English and Spanish.
For questions about your child's score report or academic performance, please contact your child