District personnel may reserve warehouse vehicles for district materials transfer.
The warehouse vehicles available for rent include:
An 11-foot box truck (available for rent any day and time)
A 22-foot box truck with a lift gate (only available on weekends or after 3 p.m .on weekdays and requires a driver with a Commercial Driver's License).
The rental rate is $3.50 per mile.
To request the rental of a box truck, please go to the Allen ISD Intranet

Select Document Library

Select Distribution

Click on the link below the heading "Warehouse: Box Truck Rental"

To become eligible to drive a warehouse vehicle, you must be certified by the AISD Vehicle Safety and Use Program administered by the AISD Transportation Department. To be eligible to drive the large, 22 ft truck, you must also have a CDL. (It is the requestor's responsibility to obtain a driver with a CDL.)
Once your request has been approved, you will receive a confirmation email with additional instructions.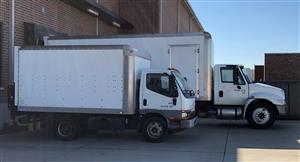 22-foot box truck cargo area (pictured above)

If you have questions, please call the Distribution Department.