Employee Referral Program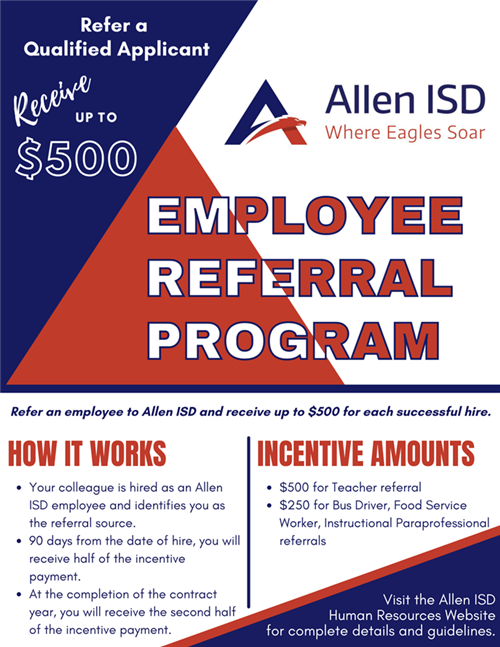 1) To refer a potential employee for the 2023-2024 school year, please complete this form. Referral payments are only available for candidates hired on July 1, 2023, or later.
2) You must be a current, full-time, District employee at the time of referral and at the time of payment.
3) For Teacher referral candidates, referred candidates must possess appropriate certification and be eligible for an employment contract.
4) For Bus Driver, Food Service Worker, or Instructional Paraprofessional candidates, referred candidates must be hired for a position in which they have been referred.
5) Referred candidates must stay employed, in good standing, for at least 90 days in order for the employee to receive the first half of payment. The second half of the payment will be awarded at the conclusion of the candidate's contract year.
6) Referred candidates must not have been employed by the District for at least one year from the date of referral.
7) Only one referral will be awarded per candidate. Human Resources will confirm the referral source with the referred candidate. If multiple employees refer the same candidate, the first referral received will be the one awarded if that candidate is hired.