Attendance Boundary History
New Map Will Take Effect in Fall of 2023
The Board of Trustees approved new attendance boundaries for Allen ISD's elementary schools at its Nov. 28, 2023, meeting. The new boundary zones will take effect beginning in the 2023-2024 school year. A copy of the approved map is available here.
The recommendation to adjust the attendance boundaries follows a multi-year process as District officials analyzed current and future enrollment trends. Following the approval of the new boundary adjustments, Allen ISD will be able to address issues related to overcrowding at several campuses, declining enrollment at other campuses, 3,000 open elementary seats across the District, the upcoming implementation of full-day prekindergarten, and considerations related to financial efficiency.
In addition to redrawing boundary lines throughout the District, the approved map will include the following changes:
Repurpose Anderson Elementary into an early childhood campus to accommodate the state-required transition to full-day prekindergarten

Existing early childhood classes at Cheatham and Rountree will move to Anderson

Repurpose Rountree Elementary for future non-instructional programming needs

Relocate the One-Way Dual Language program from Boyd Elementary to Chandler Elementary
The vote followed several opportunities for public feedback and input from the community. District officials received feedback from an Attendance Boundary Adjustment Committee in September, community input at two public meetings in October and November, and public comment at Board meetings in September, October, and November. Based on that input, the District presented several changes to the originally proposed map at the November 14 Board of Trustees Workshop meeting. The updated map with community-recommended changes is the version that was approved by the Board on November 28.
"Our families love their schools, and redrawing attendance boundaries is never an easy process," said Dr. Robin Bullock, Allen ISD Superintendent. "Ultimately, this endeavor was conducted with a focus on the long-term success of this District for the benefit of all students. Our focus will remain on delivering exceptional learning experiences and opportunities for every student who attends an Allen ISD school."
Allen ISD will now begin the process of working with staff and families to provide a smooth transition for students who will attend a new school next year. During the spring semester, individual campuses will begin communicating information to families to help welcome them to their new school. Allen ISD is also in the process of creating a dedicated website with information about the boundary changes, including an address-locator tool for families to determine their new school zone boundary based on a specific address.
2023-2024 Attendance Boundary Map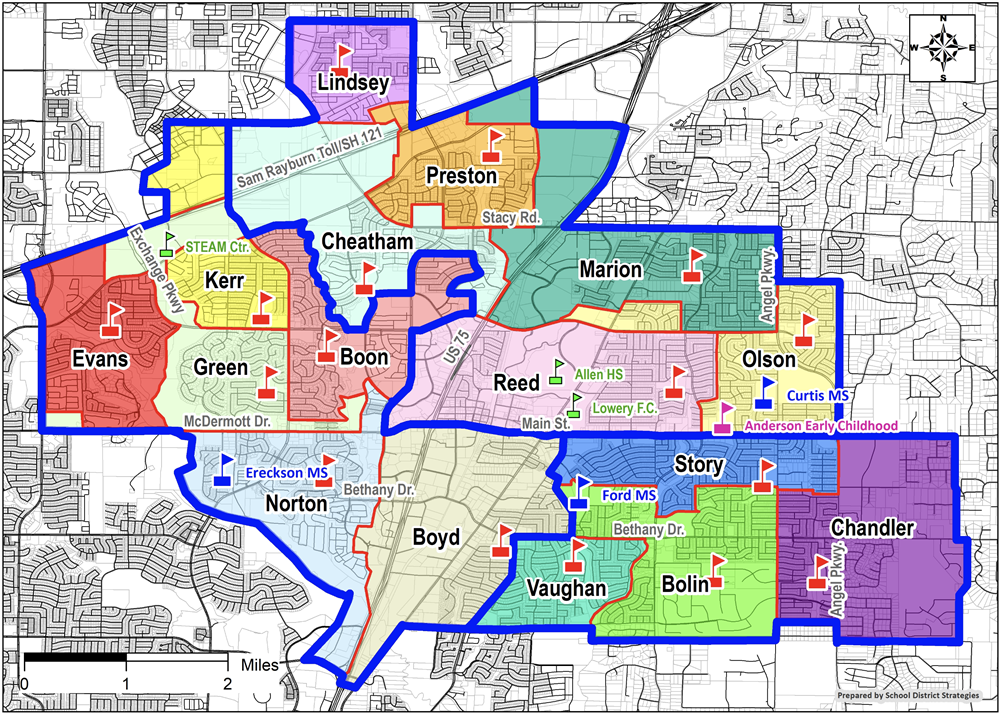 Versión En Espanol Esta A Continuación
El nuevo mapa entrará en vigencia en el otoño de 2023
La Junta de Síndicos aprobó nuevos límites de asistencia para las escuelas primarias de Allen ISD en su reunión del 28 de noviembre. Las nuevas zonas de límites entrarán en vigencia a partir del año escolar 2023-2024. Una copia del mapa aprobado está disponible aquí.
La recomendación de ajustar los límites de asistencia sigue un proceso de varios años en el que los funcionarios del Distrito analizaron las tendencias de inscripción actuales y futuras. Luego de la aprobación de los nuevos ajustes de límites, Allen ISD podrá abordar los problemas relacionados con el congestiona miento en varios campus, la disminución de la inscripción en otros campus, 3,000 cupos abiertos en primaria en todo el Distrito, la próxima implementación del prekínder de día completo y las consideraciones relacionadas a la eficiencia financiera.
Además de volver a dibujar los límites en todo el Distrito, el mapa aprobado incluirá los siguientes cambios:
• Reutilizar la Escuela Primaria Anderson para convertirla en una escuela preescolar a fin de acomodar la transición requerida por el estado a un programa de prekínder de día completo
• Las clases de prekínder que existenten en Cheatham y Rountree se trasladarán a Anderson
• Reutilizar la Escuela Primaria Rountree para futuras necesidades de programación no instructivas
• Reubicar el programa de lenguaje dual unidireccional de Boyd Elementary a Chandler Elementary
La votación siguió a varias oportunidades para recibir comentarios públicos y aportes de la comunidad. Los funcionarios del distrito recibieron comentarios de un Comité de ajuste de límites de asistencia en septiembre, aportes de la comunidad en dos reuniones públicas en octubre y noviembre y comentarios públicos en las reuniones de la Junta en septiembre, octubre y noviembre. Con base en esa información, el Distrito presentó varios cambios al mapa propuesto originalmente en la reunión del taller de la Junta de Síndicos Directiva del 14 de Noviembre. El mapa actualizado con los cambios recomendados por la comunidad es la versión que aprobó la Junta el 28 de noviembre.
"Nuestras familias aman sus escuelas y volver a trazar los límites de asistencia nunca es un proceso fácil", dijo la Dr. Robin Bullock, superintendente de Allen ISD. "En última instancia, este esfuerzo se llevó a cabo con un enfoque en el éxito a largo plazo de este Distrito para el beneficio de todos los estudiantes. Nuestro enfoque seguirá siendo brindar experiencias y oportunidades de aprendizaje excepcionales para cada estudiante que asiste a una escuela de Allen ISD".
Allen ISD ahora comenzará el proceso de trabajar con el personal y las familias para brindar una transición sin problemas para los estudiantes que harán la transición a una nueva escuela el próximo año. Durante el semestre de primavera, los campus comenzarán a comunicar información a las familias para ayudar a darles la bienvenida a su nueva escuela. Allen ISD también está en el proceso de crear un sitio web dedicado con información sobre los cambios de límites, incluida una herramienta de búsqueda de direcciones para que las familias determinen su nuevo límite de zona escolar en función de una dirección específica.
Presentation From The Public Input Meeting
Oct. 6 Attendance Boundary Adjustment Meeting Video