Third Grade Team at Reed Elementary Supporting Individual Needs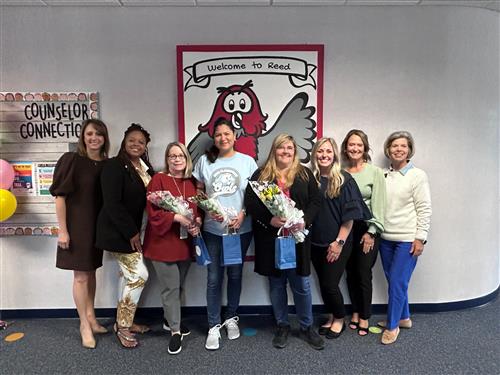 The third-grade team at Reed Elementary works together to support every third grade student in achieving personal and academic growth. Even with a new team member this school year, this team has maintained a system for high-quality first-time instruction and intervention that supports individual student needs. They consistently discuss and plan together to make decisions for their students and empower students through sharing their data and goal-setting. The third grade team includes Leanne Vargas, Mercedes Artiago, Kiki Greenleaf, and Alison Jershin.
Sixth Grade Team at Boon Elementary are Empowering Leaders
The sixth grade team at Boon Elementary has focused on empowering students through leadership. Each 6th grade student selected a "leadership" job at the first of the year that they are dedicated to. Jobs range from Safety Patrol, Kinder Mentor (Boon Buddy), Mascot, Office Assistant, Yearbook, Newspaper, House Leader, Library Aide, and more. The sixth grade team includes Jill Edgington, Tracy Mulady, Taylor Kirkindoll, Paige Self, Summer Mooring, and Holle McSpadden.
First Graders at Preston Elementary are Setting Their Own Goals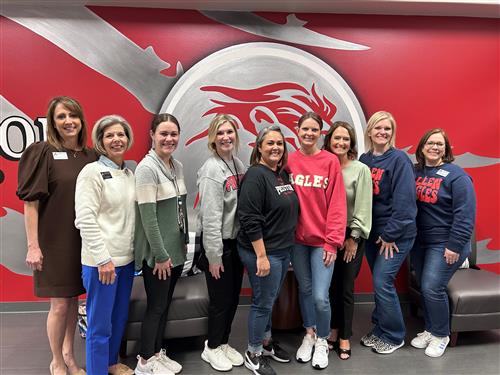 The first grade team at Preston Elementary is demonstrating Empowered Learning through engaging their students in goal setting. This started with Desirae Stevens and Mary Nichols implementing goal setting in their classrooms. After presenting this idea to our Preston staff and during the district-wide professional development, the rest of the team jumped on board and helped their students see the value in setting a goal and tracking their own progress.
"Their collaboration to implement this in their grade level is inspiring," said Principal Monica Lemons. "It's incredible to see such young students work toward a target. It's even better to see their joy in achieving their goals."
The first grade team includes Desirae Stevens, Mary Nichols, Andrea Jackson, Allison Chapman, and Olivia Johnson.
Specials Team at Green Elementary Igniting Curiosity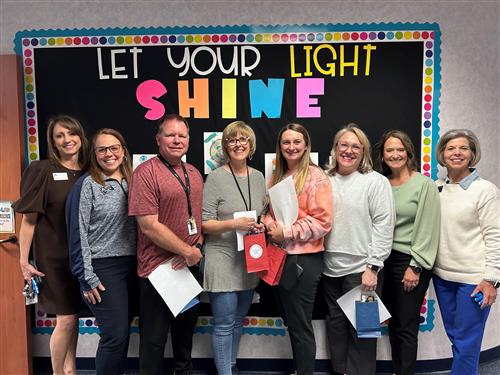 The Specials Team, Aerie Bentley (Art), Rhonda Selph (Music), and Chad Sanford (PE), at Green Elementary fosters an environment where our students are ignited in their curiosity and empowered in their learning. Each department takes time to create engaging and meaningful lessons that allow students to explore each of these essential areas.
Makerspace Teachers are Making Space for Innovation and Creativity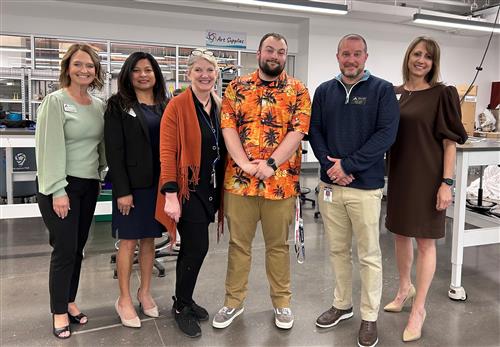 STEAM Center teachers, Wendy McIntyre and Reece Palmer, have created a culture of innovation, creativity and risk-taking in the STEAM Makerspace. Classes, teachers, and individual students utilize the Makerspace for class projects, passion projects, and to just tinker. With the variety of learning areas that have been established, there is something of interest to all students.
Two Kerr Elementary Teachers Revamp Morning Announcements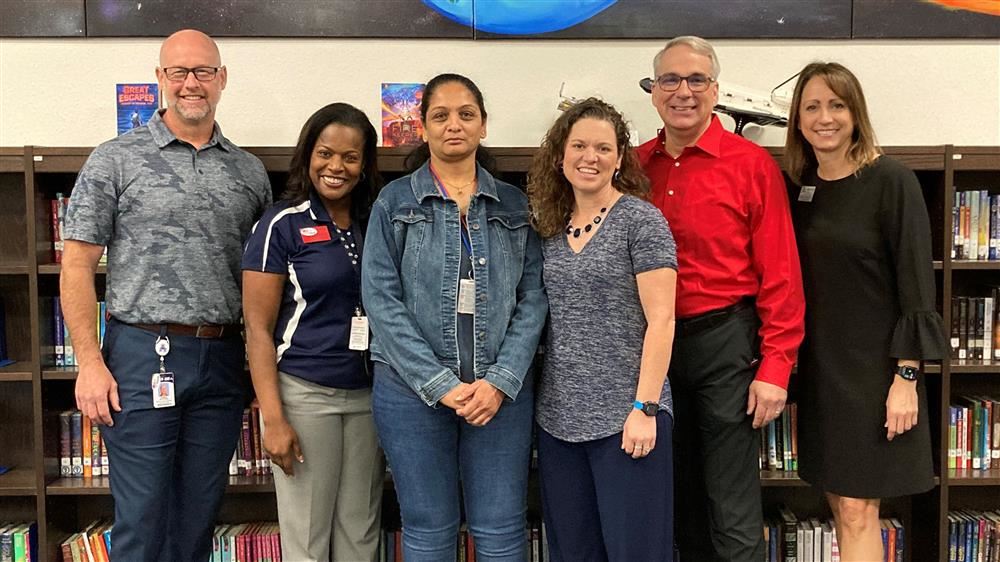 Jamie Morris and Pooja Bhatt have completely redesigned The Kerr Elementary morning announcements this year to make it 100% student driven.
The K-COMM crew works together to design the announcements each week, run the board & cameras, provide jokes on Wacky Wednesdays and learn each job throughout their rotation time.
"This is a new initiative for our campus to make our morning announcements completely student driven and our K-COMM crew has done a fabulous job," said Katie Ponce, Assistant Principal at Kerr ES. "We are extremely lucky to have Pooja and Jamie supporting them as they have empowered them with this task."
Norton Elementary Special Education Team Empowering Students Through Individual Needs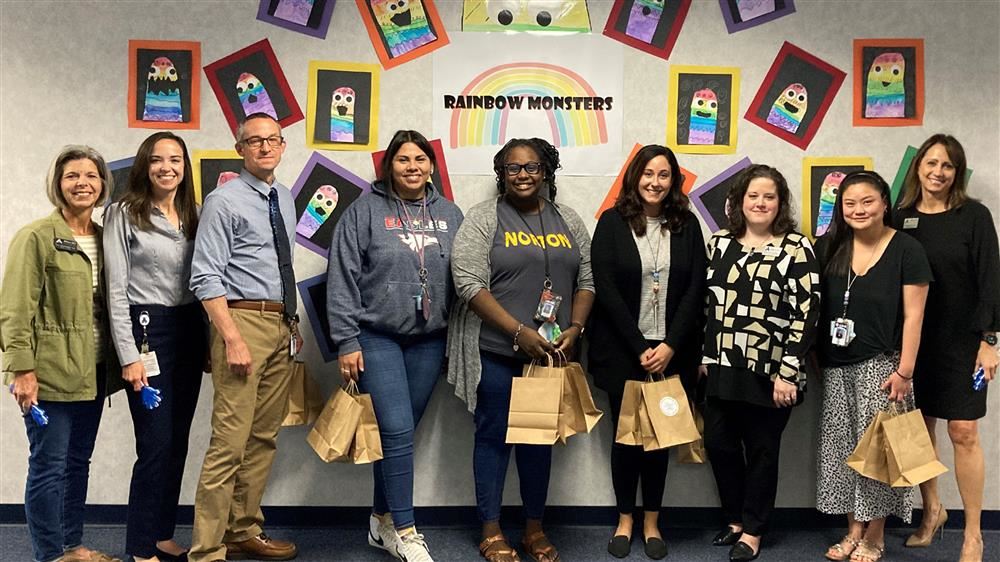 The Special Education team at Norton Elementary exemplifies the qualities of empowered learning by personalizing their lessons to the individual needs of their students, supporting them as needed, and empowering them to achieve their goals.
They help students take ownership of their own learning and focus on instilling a growth mindset, giving students the confidence they need to succeed.
"They pour into our students daily, they help each other out when needed, and they do it all with a smile and a great attitude," said Aimee Cherry, Principal at Norton ES. "We are so grateful for their hard work, dedication, and collective expertise."
Rountree Elementary Third Grade Team Planning Instruction through Thoughtful Analysis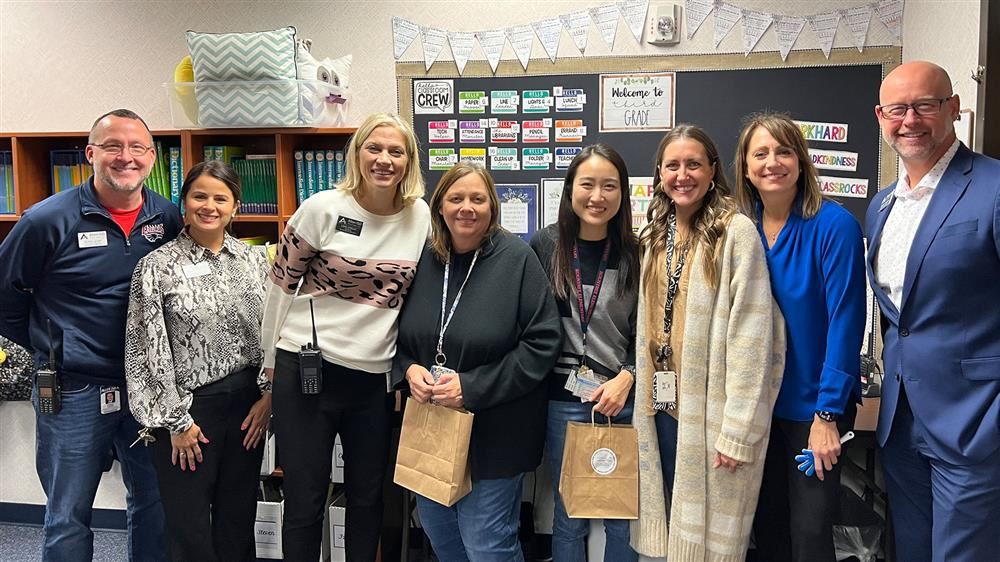 The third grade team at Rountree Elementary exemplifies the meaning of empowered learning by taking time and attention to plan instruction that quickly identifies student successes and needs and guide their instructional practices. Through bi-weekly assessments, they analyze student data, identify the student level of understanding, collectively pinpoint a skill focus, and collaborate on strategic instruction to close the gap.
The team's growth mindset empowers each of their learners to strive for continuous growth and opportunities to progress in their learning everyday.
Vaughan Elementary First Graders Deepening their Thinking with the Help of Two GATE Teachers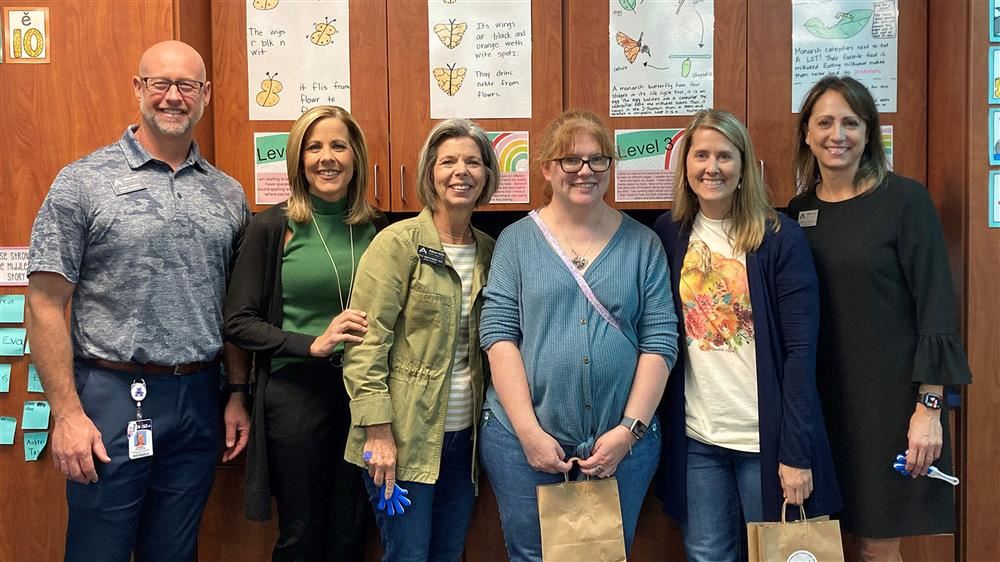 Laura Nguyen and Shari Waites are working together at Vaughan Elementary to empower learning in their first grade GATE classrooms. Their students are setting academic goals and meeting with their teachers to create action plans on how to reach their goals. They are also utilizing Depth and Complexity Icons to enrich the learning experiences for their students.
Laura and Shari are empowering their students by allowing them to choose how they enrich and deepen their thinking by choosing an icon to connect with and responding to questions through the lens of the icon...all this with first grade students
Marion Elementary Third Grade Team Empowering Students through Goal Setting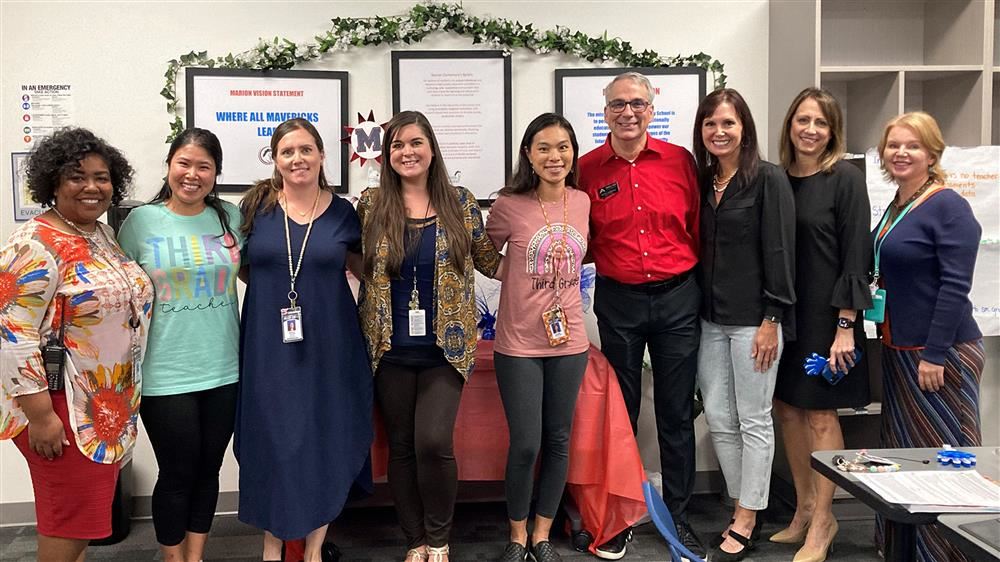 Marion Elementary 3rd-grade team is implementing the student goal-setting process which empowers students as learners and focuses on individual growth. The goal setting process teachers use is personalized and empowers student ownership. Third grade teachers are supporting each student, as a whole child, in achieving personal and academic growth.
The grade level lead, Mrs. Dianne Barton, is sharing these goal-setting practices with the entire faculty. She led a goal setting professional development session in September for Marion Staff and in October during