tip411 - Anonymous Tip Program
Please note: tip411 is NOT a substitute for calling the Police Department to report any in-progress incident. If an immediate response is needed, please dial 9-1-1 for emergency services. This program is only monitored during school hours.
How To Submit a Tip
You can submit an anonymous tip to Allen ISD by either text message, an app, or using a web form.
To submit an anonymous tip via text message to Allen ISD, text AISD and your tip to 847411 (TIP411).
Please be sure to include the campus or location in the tip so your tip can be processed quickly.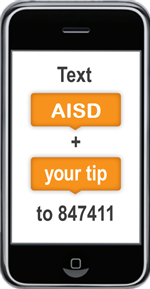 -------------------- OR --------------------
Download the App*
*Check the "Tip List" within the app from time to time to see a response from the tip411 monitors.